Chabot
Chabot established its name in Armagnac in 1828. Based in the rolling hills of Gascony in the village of Labastide d'Armagnac, the family produced the wine necessary for the distillation of Armagnac. For over a century, the finely crafted Armagnac remained a well-kept secret, shared among close friends, Gascon locals and the French nobility. That was until 1963 when Chabot brought Armagnac from France to the rest of the world.
The big international development of Chabot continues to take place under the leadership of Gentzbourger family. The brandy is prized for its superlative quality and distinctive taste. Today, Chabot Armagnac has circumnavigated the globe and can be found in 96 countries. It is now the best selling Armagnac brand in the world. And yet, keeping tradition of Armagnac remains a strict priority.
Every drop of Chabot Armagnac today is still imbued with the brand's intrinsic heritage and rich quality. Chabot now owns and controls its entire operation from vineyards, vinification, distilling and ageing to bottling. This ensures highest quality and authenticity and is unique in the brandy world.
Like the modern gentleman, Chabot's 30 Year Old is dignified and polished. This debonair Armagnac has been delicately blended by our Cellar Master from vintages secured in the oldest reserves of Chabot. Every drop of this premium Armagnac is 30 years old or older. With glints of amber-colored topaz and aromas of sweet Madeira and exotic spices, this 30 Year Old, with its long lasting taste, pairs perfectly with a fine smoldering cigar.
EYE Amber color with glints of copper
NOSE Intense nose with powerful aromas of preserved fruits, spices and a hint of sweet Madeira
TASTE Round in the mouth, consistent and balanced, long lasting taste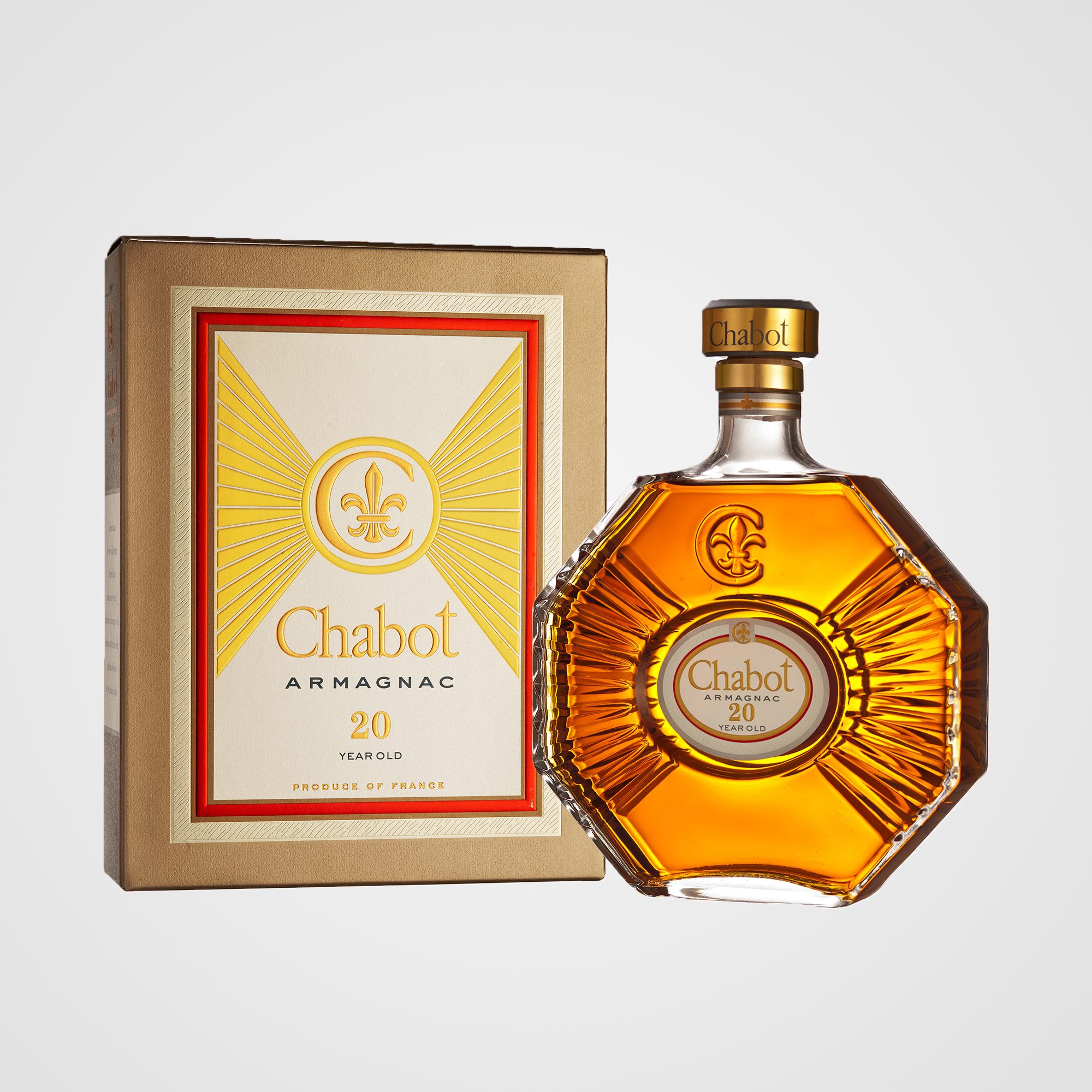 To the true Armagnac aficionado, Chabot offers the distinguished 20 Year Old, a bold, age- statement line extension of the Chabot range. An octagonal Basque bottle contains the gold and amber nectar, paying tribute to Chabot's rich heritage. The dried fruit and woody note leads to an aromatic richness. Every drop in the bottle is aged at least 20 years or older. This 20 Year Old is, in its essence, a nostalgic eau de vie that enlivens one's most treasured memories.
EYE Amber color with glints of orange
NOSE Intense nose with aromas of preserved fruit
TASTE Round in the mouth, consistent and balanced structure. A long persistent feeling. Wood flavored with the aromas of fruits

Chabot's flagship Armagnac, the X.O. Superior, shimmers in a crystal cut glass bottle that is itself a work of art. The brandy is a unique blend of mature Armagnacs aged up to 35 years. With a satin golden amber color and a nose of almond and plum, this Armagnac is full in the mouth with a powerful finish and spicy, long lasting aromas. X.O. is the statement piece in any fine spirit collection. It is the best selling Armagnac in the Chabot range.
EYE A shiny caramel color
NOSE A nose of almond, plum with slight cane sugar scent
TASTE Strong and powerful finish, spicy and long lasting aromas
The 5 Year-Old Armagnac promises to ignite every sense. Rich aromas of white plum and smoky wood rise from the depths of this copper colored elixir, The full, rounded taste is reflected in the sensual curves of the bottle , distinctly baroque in its grandeur.
EYE Copper color
NOSE Smell of white plum and smoky wood
TASTE Full & rounded in mouth
VS represents the youngest blended Armagnac with minimum of 2 years. It's warm and balanced, dominated by fresh fruit flavors, perfect for cocktail mixology. Simply mix Chabot VS with lime juice and sugar in 2:1:1 ratio, shake well with ice and serve chilled!
EYE Copper Color
NOSE Smell of Plum and Apple Flavor
TASTE Perfect for cocktails